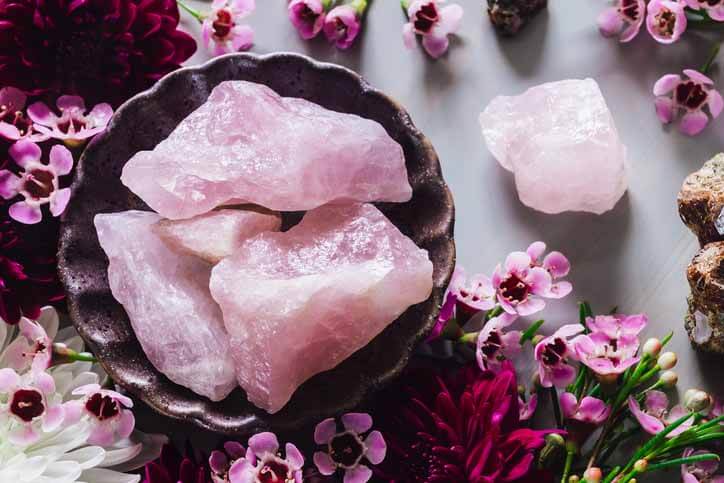 Revitalise your love life with crystal power
As the summer temperature heats up, thoughts of love and lust spring to mind! Whether you are looking for a new romance or hoping to spice up an existing relationship, natural crystals are little powerhouses of energy that can transform your love life from chilly to sizzling hot!
Crystals are formed in the Earth over millions of years, meaning each one is filled with the powerful energy of Mother Earth. Coming from different areas of the world, each type of crystal has a unique composition, giving it a distinct colour and appearance. But most importantly, each crystal type vibrates at a different frequency. And it's this energy that can flow through your body, clearing away old hurts and opening you up to the positivity of new love! Wear your crystals as jewellery, place them around your home, or meditate while holding a crystal to feel its effects.
1) To rejuvenate after heartbreak: Rose Quartz
Everyone should have a piece of this pale pink powerhouse of love! The delicate rose colour of this quartz will help sooth away past love wounds, helping you to release that hurt. It radiates a loving, calming energy that will enable you to feel ready for new love in your life. Or to look at your existing relationship in a lovingly new frame of mind.
2) To be optimistic: Lemon Quartz
To find and keep love, you have to be optimistic! Because if you sit around gloomily thinking love will never find you - it won't! But if you get out and about with an upbeat, positive outlook, you're much more likely to attract a potential lover. That's where lemon quartz comes in to help you. This vibrant yellow stone will lift your spirits and its zingy vibrations will blast through negativity, giving you the energetic boost you need to feel optimistic.
3) To open your heart to love: Malachite
The bands and swirls of green on this healing crystal will calm your nerves and help you to open up your heart to love. Use this crystal if you feel a mental or emotional block is preventing you from committing fully to that special someone. It will balance your emotions, helping you feel more secure.
4) To attract true love: Green Jade
The pure, clear green of green jade is highly prized in Chinese culture for its ability to attract luck and love. So if you're looking to find the love of your life then slip a piece of jade into your pocket to attract the right type of person for you.
5) To be captivating: Moonstone
The mysterious blue shimmer of moonstone is captivating to look at. Its energy is balancing to the emotions but it also enhances the natural attractiveness of its wearer. So put on a piece of moonstone jewellery on a first date for the confidence boost that you are simply captivating!
6) To get in the mood for love: Ruby
If you've been struggling to make time for romance or to feel romantic with your partner, try wearing ruby jewellery or carrying a rough chip of ruby in your pocket. The luscious red of this gemstone will turn up the passion dial in your relationship, making you feel more confident, energised and in the mood for love.
7) To keep love: Amazonite
It's no accident that many of the 'love' crystals are green in colour. Lush hues of green are the traditional colour of Venus the goddess of love. So the green or blue-green of opaque Amazonite crystals is no exception. Amazonite will help you maintain a close loving connection with your lover, aiding communication between you and forge a bond that could last a lifetime.
8) To have sizzling sex: Garnet
Sex is an important part of most people's romantic relationship. But sometimes desire can dwindle and it can seem difficult to be intimate. Here's where garnet can come to the rescue! Wear or meditate with this fiery red stone to stimulate your base chakra. Your base or root chakra is the energetic centre that controls sexual desire. The frequency of garnet unblocks this energy centre, reawakening your desire.
9) To forgive love mistakes: Rhodonite
Everyone makes mistakes, but when it comes to the heart those mistakes can be painful and difficult to forgive. The unassuming looking brown-pink stone, rhodonite, can help you with this. Known as the stone of forgiveness, it will gently help you to let go of the hurt caused by a lover so you can move forward without bitterness.
10) To keep the spark alive: Blue lace agate
So you've found someone you love but life gets in the way. Mundane chores, work and family life can all drain the romantic spark from even the happiest of relationships. Keep those fires burning with the help of blue lace agate. This pale blue banded stone preserves all the good aspects of love while chasing away the bad. So it aids communication, romance and fun, while banishing anger, criticism and hurt. Place it around your home to feel those good vibes!